I have done a few posts here and there about my garage sale and thrifting adventures. I certainly haven't shown you all of the junk stuff that I have gotten in the past few months. But for those of you who haven't tried your hand at second hand shopping, I wanted to show you what great stuff you can get for any season for just a few dollars.
I generally pop into my favorite thrift stores, Goodwill, or Salvation army every so often just to see if there is anything that I can't live without. Usually there isn't! But once in a great while, I will find something that is seasonal (usually from a season opposite the one we are currently in), and I'll pick it up for a couple of dollars. I don't go to garage sales all that often, maybe once a month or twice a month. But, you can get some really great home décor, craft supplies, and furniture from these sales.
So, for today, I went through some of my "stuff" and pulled together a couple of seasonal vignettes to show you what I've found. Boy is there more to show you!! I'll leave furniture for it's very own post. Let's just say that I am not going to buy anything BIG for a while. The last time I bought big, it was 2 double doored "wardrobes" for my craft room and 2 seven foot book shelves. Hubby's back is probably still hurting :)
First up is the Christmas collection:
These came from a garage sale. They are a little GOLD for my taste! But I'll take off their excessively large collars and spray paint them white or maybe brown. Anything to tone down the gold. These pictures don't do them justice; believe me they are bright! But they were cheap!!
This Nativity set has about six more pieces to it, including camels, a cow, and an angel. The little stocking is hand made and I just loved the checked fabric. The wreath in the back is lighted and it works! The little red Merry Christmas pot is just too cute. No plans for it yet… As you can see, you can find lots of craft supplies while thrifting. The white thing in the back is a styrofoam cone that I'll use to make a ribbon Christmas tree this year. The roll of ribbon is 50 yards! That's a bunch of ribbon. The green alien looking thing is the styrofoam form for a topiary. I love topiaries, and I have about 5 of these forms. Lastly, I have some floral stems. These look great in arrangements. I don't know how to DO arrangements, but I'll figure that out when the time comes…
The Fall Collection:
I got this little acorn lantern from the Junior League Thrift sale. I went on the 2nd day, and everything was 1/2 off. Yippee! I may or may not have had to buy a duffle bag while I was there to carry all of my loot… The pumpkin baskets are from Goodwill; I've seen these same baskets at Michaels for quite a chunk of change. The wooden bowl is from a garage sale as well. It's rustic. I love it. The end.
I can use all of these items for Thanksgiving. I got the bundle of "wheat" , black stand, and cornucopia from garage sales. I got 5 of those adorable feathered turkeys from the Junior League sale. And the pumpkins are mine from around the house :) And let's not forget THE TURKEY
that I got at a garage sale earlier this year. It Will make its debut in a week or so, if hubby doesn't burn it first!
Most of my Spring/Summer things have been put away in the attic. You have seen some of my fabulous finds here
. But here are a few things I could still pull together easily for this post to show you.
Here we have 3 wicker bird cages. They need a coat of paint but will be adorable for Spring. And I have a "thing" for birds, nests, and birdcages, so these were perfect. Under the two cages on the table are 3 of those wooden trays that everyone is painting and redoing. I'll be painting these up soon myself. The two prints were purchased from a friend of mine, who bought them at a yard sale. They are both pictures of my beautiful city. I guess they are 3rd hand :) The polka dot tablecloth and the placemats on the right hand side are both from the Junior League sale- half price baby!
This is a close-up of the San Francisco tote that I got for 25 cents! It's a yellow burlap with some cute little wooden handles. I like San Francisco as much as the next gal, but they aren't paying me to advertise, so I will paint or applique over the "billboard" or just remove the handles and make my own tote. I put a bunch of fabric pieces that I have gotten at yard sales inside to show you. I'm brand new to sewing, but I LOVE fabric. I bought this fabric by the handful or bagful; each time it cost about $1. You can't get that kind of deal anywhere else!
So, you see if you take a chance and try thrift shopping, you might just get a great deal on junk things you'll really use and enjoy.
Happy Thrifting!
Linking up to these great
parties
.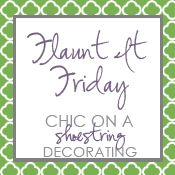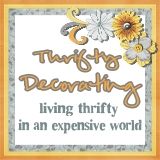 Nifty Thrifty Tuesday at Coastal Charm,
Show and Share at Southern Lovely
,
Wow us Wednesdays at Savvy Southern Style
,
Creative Bloggers Party
,
Catch as Can at My Repurposed Life
,
Nifty Thrifty Sunday at Nifty Thrifty Things
,
Time to Shine at Diamond in the Stuff