So, I wrestled a pool noodle in order to party with the cool girls at the Pool Noodle Party.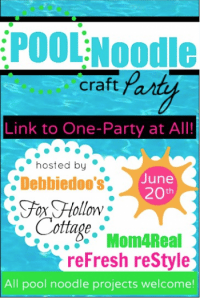 Party Hosts Debbiedoo's
This thing was going to be a wreath, a skate board, and a flower! But ultimately it became what it was meant to be… a shabby little dragonfly.
Here are the materials needed to make your own shabby dragonfly from a simple pool noodle.
-Pool Noodle
-strips of torn drop cloth
-ball of twine
- thin wooden dowel
-one pants hanger (wire top cardboard bottom)
-straight pins
-hot glue
1- cut your pool noodle in half long ways and then in half the other way. Like a loaf of bread waiting to be buttered…mmm…
2- tear many many many strips of drop cloth and pin the ends to a piece of noodle and wrap. This is the longest step, so put on your DVR'd episodes of "Junk Gypsies" while you wrap.
3- Once your 4 "wings" are wrapped and cinched in at the ends with the strips of cloth, take another half of a regular pool noodle and begin wrapping it in cloth. Sounds like we are mummifying something doesn't it?
4- Then use your wooden dowel to attach the wings to the "body" noodle.
Hubby is helping out here :)
5- Once the dowels are in, wrap the dragonfly some more. Criss-cross across the body and pin on the back side to be sure that everything is nice and secure.
blurry close up…
6- Once your dragonfly's body is made, then roll some twine to form 2 eyes and hot glue them on. Simple.
7- Poke a hole in the top of your little guy, and bend the coat hanger top straight and drop it right in. I used a little hot glue to secure the antennae.
close up of the antennae
So folks, there you have it. My very last minute pool noodle creation. I told Debbie at Refresh Restyle that I'd be late to the party, but I'd be there.
My motto seems to be…
I was gonna be lame and just use my iPhone to take the pictures, since I was running so late to the big bash! Well, I changed my mind and used my "good" camera. Did you notice the fabulous quality of my photos???? Did ya? Oh, well, with only a few minutes before the party started, I CANNOT FIND THE FILE WHERE MY PICTURES UPLOADED!!!!! I must be crazy! So here are some rather crappy iPhone pictures of my pool noodle project :)
I made it to the party
Debbie
! Oh, and I brought a date! My shabby little dragonfly.
Linking up to
The Pool Noodle Party